Our Story
April Xie - Owner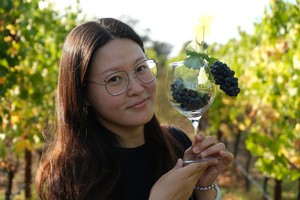 As an owner, in partnership with her father, April brings her wealth of talents, knowledge and vision to Sonoma County, and exemplifies the growing passion of her generation for California wines. The Ektimo Green Valley Estate was carefully chosen to reflect the values and commitment to the belief that this is home to some of the finest wines in the world. She has laid the foundations for an Estate to compete with the best, with a vision for the future that will lead Ektimo Wines to the next level.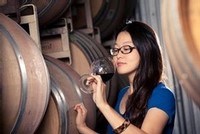 A true pioneer, her quest for excellence is showcased by her efforts to create wines of character, style, sophistication and elegance to be enjoyed with abandon. Graduating through ongoing studies with "The Wine & Spirit Education Trust", April realizes that great wine is a destination best appreciated by making the most of the journey. The customer experience at Ektimo reflects the unpretentious style, with the focus placing fine wines in the spotlight.
Her entrepreneurial spirit landed her on the Michelin guide by creating a food & wine experience in Beijing that is second to none. There are plans for an unparalleled "California Wine Experience" in China with Ektimo Wines at center stage.
The Xie family are on the leading edge of the growing passion for California wines in China, and are on the forefront of introducing a thirsty audience to the magnificence that boutique, family owned California wineries have to offer. They are uniquely positioned to share their passion by bringing a taste of rural Sonoma County to the big city and beyond.
Dominic Xie - Owner
Dominic Xie was born in 1962 in the wine country of Ningxie Province, China. Coming of age in the aftermath of the Cultural Revolution he studied at Stanford, raised a family, pursued a successful career in government and business, but never forgot his roots in the vineyards at the edge of the Gobi Desert.
In 2012 the Xie family acquired the former Cahill Estate and winery in the Russian River Valley. In his many years of travel around China and the world, Dom had quietly but consistently pursued his love of wine and country life in Mediterranean Europe and the Americas. But it was California that spoke to him most clearly, to his own love of the land, of purity and simplicity. Ektimo (from the Greek, "εκτιμώ", to appreciate) is Dom's expression of gratitude for the bounties of nature and fortune, his desire to use them well here, and most of all, our desire to share them with you.
Winemaking Philosophy
Wine making satisfies both intellectual and artistic elements. There are two primary elements that create wine….grapes and a winemaker. They are the foundations upon which every wine is based.
The goal at Ektimo Vineyards is for each wine to showcase the character of the vineyard, the fruit of the vine and the craft of the winemaker. We prefer wines that have pure aromatics, concentrated flavors and an elegant structure. Our wines are balanced in fruit, alcohol, tannins, acidity and oak. A great wine should make you think, but most of all it should tempt you to come back for more.
The Team

Aaron Piotter - Winemaker extraordinaire
Born and raised in Sonoma, Aaron Piotter has roots that run very deep in wine country. The home he grew up in is a stone's throw from General Mariano Guadalupe Vallejo's Lachryma Montis vineyard and Aaron's father is volunteer caretaker of that historic vineyard today.
Aaron received his BS in Fermentation Science from UC Davis in the Viticulture and Enology department. Aaron has 27 harvests under his belt and has amassed winemaking experience from a dynamic range of vineyards and wineries. Sebastiani Winery, ZD Wines, Viansa Winery and Italian Marketplace, Franciscan Oakville Estate, Ferrari-Carano and most recently was Senior Winemaker at Gallo of Sonoma in the Dry Creek Valley. Aaron has assembled blends and partnered with wineries in Oregon, New Zealand and Australia.
Perfectly at home gently foot treading a T-bin of Russian River Pinot Noir, yet no stranger to managing a 50 ton fermenter of Dry Creek Zinfandel, Aaron is excited to focus on small lot, hand crafted, luxury wines produced at Ektimo Estate and Ross Road Custom Crush.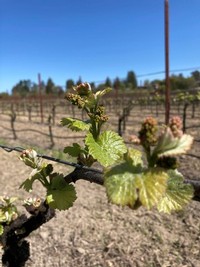 Aaron is eager to apply his vast winemaking experience and also to continue his journey of learning and continuous improvement. Every vintage, batch and fermentation is a truly special and unique experience. Aaron is looking forward to partnering with our winemaking partners to expertly execute your winemaking vision.
Aaron's winemaking philosophy is quite simple, capture the soul of each vineyard and diligently shepherd it to bottle with uncompromising attention to detail. Aaron is a high energy individual and channels this energy through his passion for hiking with his wife and two dogs as well as being an avid cyclist. You may see him reducing his carbon footprint while commuting from Windsor to Ektimo by bicycle. Aaron looks forward to sharing his passion for all things wine with the Ektimo team and all our clients!
Leslie Hennessy, National Sales Consultant
Leslie Hennessy discovered Ektimo Winery in 2020 when he launched production of his private label Sauvignon Blanc at the winery. Ektimo Wines left a lasting impression, and in April of 2022 he was engaged as national sales consultant for the Ektimo brand while continuing his personal business endeavors.
Leslie's wine career started in 1968 at a college liquor store in Minneapolis, Minnesota. At a young age he developed a passion for wine that would shape his career for years to come. Smitten by the wine business, advancement opportunities took him to Hawaii to become the assistant wine buyer at the Johnston Buscher Wine Co. in Honolulu.
He was then hired in 1970 by Haskell's (a founding member of the Wine and Spirits Guild where he was introduced to the famous wine connoisseur Alexis Lichine who would help Leslie to hones his skills further. In 1971 Alexis sent him on a privately endorsed working tour of the winemaking regions of Bordeaux, Burgundy, Cognac, Champagne and Germany.
In 1976 Leslie moved to San Francisco where he became partners with Astorian Imports and imported French wines into California. In 1978 he founded his first retail store named Hennessy's Wines & Liquors in San Francisco.
In 1980 Leslie became the vineyard manager for the Paschich Ranch (Chateau Montelena) in Napa Valley.
In 1997 Leslie became the president of the California Retail Liquor Dealers Assoc. representing over 1000 independent stores.
In 2003 Leslie received the endorsement from Sasha Lichine (owner of Chateau Prieure Lichine) and publisher Alfred Knopf Jr. to write the biography of his father Alexis Lichine. His book named 'The Pope of Wine-the Biography of Alexis Lichine' was released in December of 2009 and is available on Amazon.com.
Leslie is available at leslie@gourmetwines.com, cell # 415 760 3152.
Julius, Tasting Room Manager
With over 23 years of tasting room management experience, with a comprehensive background in food & beverage and hospitality management, Julius likes the title "professional consumer".