April 19, 2023 | Julius Orth
A year in a winery... one month at a time... FEBRUARY
February, one of those unpredictable months when you need to be flexible, be able to pivot from one project to another, remember valentines day or else, and get things done before time runs out as February always seems to be short for some reason.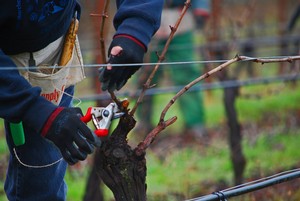 One of the primary project to consider is pruning, which invites us all to become seers, or read the farmers almanac, or just wait for a convenient opening. Pruning should happen during the dormant phase of the vine, so generally occurs between December and March in the Russian River area. Left on its own, a grapevine will sprawl and spread itself out, producing as many leaves and as much fruit as it can. You might be thinking, "More grapes! What's wrong with that?" But unchecked grapevines yield more grapes than grapegrowers are looking for—huge crops can ripen unevenly and usually result in grapes that lack the intensity of flavor needed to make great wine. Pruning helps focus the vine's energy on producing a smaller volume of the best grapes possible. The process is best left to skilled professionals, and can have a significant impact on yields, quality, and the health of the vine.
Timing is important, as pruning will be a significant factor in productivity for the season. If low temperatures and strong winds follow pruning, it's very possible that the pruned parts will freeze. This may make you lose all or part of your crop. If you prune in early December, and suddenly we have a warm february and March, the vineyard may want to bud early.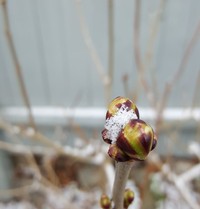 If this happens, and then freezing temperatures manifest in later March or April there is the danger of the buds being damaged, not good. You certainly want to prune before bud break, so if you wait until March you may be cutting back emerging growth, not optimal. Prune juuuust befor bud break, and you might push back bud break by a week or two, which in turn may push harvest by a couple of weeks on the ripening end if this is desired.
This is also a time of planning, as some of the decisions you are about to make will have an impact on yields, quality, and overall health of the vines. It is a delicate balance between the farmer wanting optimal yields without compromising the quality, and the winemaker to get the perfect balance of intensity and complexity by limiting yields and still making realistic numbers. Compromise can work for both.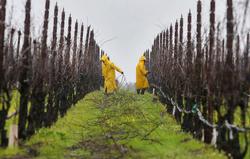 Sometimes it becomes a matter of practicality. You do not really want to be pruning in the rain or freezing cold, or when the vineyards are sloppy with mud because..... well it is messy, and pruning into a freeze can damage the freshly cut canes. So, you look for a nice window of opportunity where the weather co-operates, and the the pruning crew can get things done quickly and efficiently. You realy want to have all your vines pruned as close to the same time as possible, so if you are one guy looking to prune 10 acres of vineyard at a leisurely pace over the span of a couple of weeks, don't do it. Get your select blocks done same day and all the plants will be on the same team.

Pruning is generally completed by a scheduled vineyard management crew, which leaves the winemaking time free to work on other projects. Aside from the day to day maintenance (remember the constant cleaning and sanitizing?) it is also a good time to schedule the bottling of some previous vintages. If things have gone smoothly, some Rosé's and Sauvignon Blancs may have been finished from the most recent vintage, and are often some of the first, brightest and freshest releases from a vintage.
Some wines from the previous vintage will be timing out to have barrel aged for some 16-18 months and be ready for bottling too. As long as the wine is still in barrels or tanks, it needs regular attention to ensure no compromise to quality. Moving the wines to bottle means that you will have a completed and stable product, ready for bottle aging or release at your leisure but your work on that wine is done!
This is also a good time to start planning out your year with harvest and production goals, start setting up contracts, work out your numbers for production needs such as new barrels, but most importantly, start planning what you plan to make this year. By starting your planning early, it gives you plenty of time to make adjustments, additions, reduce or increase contracts, and generally know what your production goal is for the year. It seems like a long way off, but harvest will sneak up on you and if you have insufficient planning, the chaos of harvest will take its toll on even the most seasoned veteran.
From a hospitality perspective, this is the slowest time, so there is plenty of time for planning there too. Entering select competitions, submitting to publications that may go to print in the fall, hospitality outreach to partner with local lodgings for entertaining opportunities.
Also February, a great time for processing a wine club allocation. The celebrations of Oct, Nov & Dec have taken their toll on everyones wine supplies, so it is time to be proactive and help everyone replenish their favorites. Our quarterly club processes in February, May, August and November. Generally fairly co-operative months climate wise for most of the country, and the months when everyone needs their thirst quenched!..... well those, and the other months that someone might get thirsty for some fine wine.