May 5, 2021 |
Aaron Piotter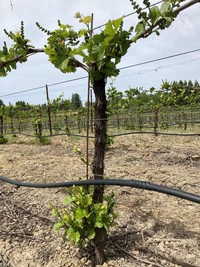 It's time for the vines to focus their energy and growth to shoots in the proper fruiting zone. We desire uniformity and balance for our Estate Pinot Noir vines. The benefits of balanced vines will manifest themselves in improved sunlight exposure, cluster separation, great ripeness and ideal flavor and texture from every cluster on the vine. Suckering is the practice of removing new growth and shoots growing in the non-fruiting zone. These shoots will never yield clusters representative of the vine or of the quality we demand. Suckers often come from the ground, the trunk, or the rootstock and clonal plant material union. They may look like happy shoots, but they are not the shoots we want to nurture. Here is an Estate clone 37 Pinot Noir vine before (above left) and after (above right) being suckered. May.... here we go!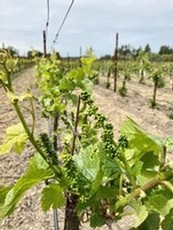 The results of a warm April with low rainfall are vines off to the races. You can see them growing right before your eyes!
The clusters look plentiful and have great architecture. Looking forward to what May will bring, but so far this would be considered a perfect launch to the growing season. Next stop - bloom!
A dry winter has us staring at extremely dry conditions this season, so the recycling of our wastewater from winery production will utilize scarce resources through the growing season. Fortunately our vines are not too demanding, and their thirst is satisfied far more easily than ours.