October 30, 2022 |
Julius Orth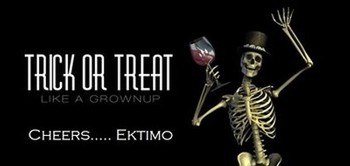 Wine..... it can make any and every celebration something special. It can mamake a meal an experience, it can make a sunset sublime, it truly can be paired with virtually any experience.
I am sure you are all seeing people express their excitement about the holiday season, halloween decorations in September, we've been seeing Christmas movies since July, it seems like everyone is trying to get a head start on the next holiday, maybe it is time to take a deep breath and embrace each special celebration one at a time. Lets face it, there is no shortage of excuses for a party.
But seriously, wine party season is here and we hope Ektimo wines will be a part of your celebrations, and lunches, and dinners, and halloween, and veterans day, and thanksgiving, and the day after thanksgiving, national mutt day, and national bouillabaise day, and national ugly sweater day, and winter solstice, and hannukah, and christmas eve, and christmas day, and kwanzaa, and boxing day, and new years eve, and new years day, and whatever occasion calls for a glass of fine wine.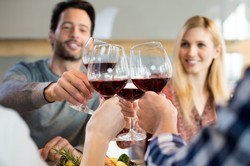 WOW, that is a lot of celebrating, better stock up on some wine.
So, here is a good place to start a celebration just because...... November 1st is "National Calzone Day" so here is your recipe for a celebration. Be sure to prepare all your ingredients ahead of time (see the recipe below) so once your guests are ready you simply need to construct and bake the calzones.
Start (and finish) with a bottle of 2017 Ektimo Russian River Zinfandel. This is a bright and lively version of Zinfandel resplendent with ripe red fruit flavors of cherry, raspberry, redcurrant, cranberry and red apple. Tannins are smooth, and only the slightest hint of spice to tantalize your taste buds.
Go ahead, pour a glass for your friends once your Calzone prep is done. Baking time for the Calzones is about 20 minutes so be sure to have a second bottle ready to share once the food is cooked. Get the Calzones in the oven, set the timer and enjoy visiting with your friends as the aromas of the baking fill the room.
Shiitake Mushroom, Pancetta and Arugula Calzone Recipe (serves 4)
12 oz Pancetta - cooked until crispy and chopped

12 oz Fresh Shiitake Mushrooms
1 large shallot - minced
salt and pepper
5 oz Arugula chopped
Fresh Pizza Dough - (store prepared works great, you will want 32oz of raw freshly made pizza dough)
8 tbsp Bertolli's Riserva Marinara Sauce Plus more for dipping
4 Cups shredded fresh mozzarella cheese
8 slices provolone cheese
Light Drizzle of Extra Virgin Olive Oil
2 eggs - for egg wash - beaten
1 pinch kosher salt
2 tbs grated parmesan cheese
Instructions
Preheat the oven to 375
Cook the pancetta on the stovetop over medium heat in a skillet until crispy. Once cooled, coarsely chop and set aside retaining the rendered fat in the pan.
Add the mushrooms and shallot to the pan. Cook until the mushrooms soften and the shallot is translucent and fragrant. Add salt and pepper to taste. Remove from the heat and place in a fine strainer to drain off excess liquid.
Place a small amount of flour on a cutting board and divide the dough into four equal portions. Roll each crust slightly to stretch the dough to a full 8" piece. (It will want to return to about 7" and that is ok).
This is the prep to be done in advance so that when your guests are ready and you are starting on the wine all that remains to be done is construction and baking
Lay out each of the pieces of pizza dough and apply 2tbsp of Bertolli Marinara to each one followed by ¼ of the mozzarella, pulled pieces of 2 slices of provolone, ¼ of the pancetta pieces, ¼ of the mushroom and shallot mix and top with fresh arugula and drizzle with olive oil.
Using a pastry brush or finger tips, wet the edges of the calzone with water so that the dough will stick together well when folded. Gently fold the top half over the bottom half and using a fork, press the edges together well. Once pressed, roll the edges and pinch well.
Brush the top of the calzone with the beaten egg, sprinkle with kosher salt and a pinch of grated parmesan. Using a sharp knife, cut three vent holes in the top of each calzone. Sprinkle with chopped arugula.
Gently place the calzones onto the prepared baking sheet and place in the oven, center rack on 375. Bake for 20 minutes and check. The calzone is done when the pastry is nicely browned and slightly crisp. Remove from oven, cool for 5 minutes and then serve immediately.
Once this little get together is over, what do you want to celebrate next? Need some inspiration? Check out the calendar that will give you an excuse to party every day of the year.... https://www.holidayscalendar.com/months/